#2010 / #2410 Pelican LED Flashlight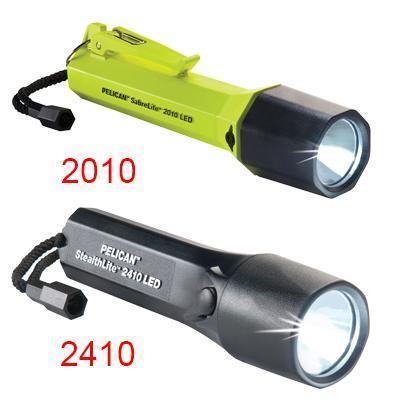 Product ID: Pelican LED Flashlight #2010 / #2410
The lamp body is made of ABS synthetic resin, which is super strong, resistant to high-strength impact, resistant to chemical corrosion, high temperature and low temperature, non-conductive and non-conductive.
The lamp holder is made of polycarbonate material that withstands high-impact impact.
The lamp holder is made of Photoluminescent night (cold) light body material, which can naturally glow in the dark and is safer to use.
Waterproof grade IPX7, up to 100 meters underwater for 4 hours.
Specifications:
 
2010
2410
Length
8.11" / 20.6 cm
7.00" / 17.78 cm
Weight With Batteries
13.4 oz / 379.9 g
7.3 oz / 207 g
Weight Without Batteries
5.4 oz / 153 g
3.7 oz / 104.9 g
Battery Size
C
AA
Battery Type
Alkaline
Battery Quantity
3
4
Volts
4.5 v
6.0 v
Lamp Type
LED
Certifications
Class I, Division 1 / Class II, Division 1 / Class III, Division 1 / IECEx ia
Certifications
IPX7
Features:
As bright as a Xenon light with the battery life of an LED
Super bright LED beam
Unconditional Lifetime Guarantee of Excellence
Waterproof
Certificate:
ISO9001:2000 production quality Certification
Pass various safety tests and provide qualified test reports(except for Nemo series)
Unconditional Lifetime Guarantee of Excellence(except for man-made sabotage,lost,or bulb,O-ring,batteries,etc.)