Ballistic Vest - M.O.D Style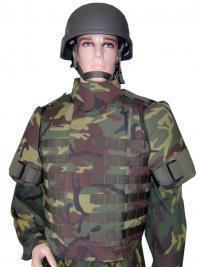 M.O.D Style
Product ID: FP 110
3 armor panels design with shoulder protection for military operation duty.
Suitable for special forces and SWAT team to perform all the normal duties associated with military and tactical operations.
Specifications:
Sizes (chest / waist): S. (38"), M. (42"), L. (46"), XL. (50").
Colors: Black, green and camouflage.
Options :

Groin protector (FP120)
Arm Protectors (FP130)
Armor level III or IV hard armor panel for rifle bullet
Various clip-on pouches for equipment, cartridge...etc. Fire-resistant fabric garment, ID patch.
Features:
Carrier material: Cordura fabrics garment. The garment has 4 adjustable waist straps, rescue strap, front and back pouches for hard armor panel and modular clip-on straps for attaching ammo and equipment pouches.
Ballistic panel: UD Aramid (Goldshield, Goldflex).
Performance level as following choice:

Ballistic armor level (ballistic only): IIIA (NIJ)




Order Information:
Minimum Order: Negotiable
Branded Product