Ballistic Helmet - PASGT Ballistic Helmet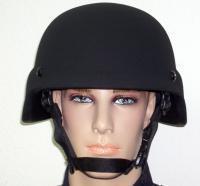 PASGT Ballistic Helmet
Product ID: FP202
The helmet provides ballistic protection to the head against bullet, fragmentation and shrapnel.
The helmet consists of a shell body, replaceable suspension assembly, headband and chinstrap.
Specifications:
Weight:Level II/1.35kg;Level IIIA/1.45kg

Colors: Flat black, green or desert color

Options:

3 points of adjustable plastic suspension system
Helmet cover
Webbing elastic band
Features:
Performance level as following choice:

Armor type II (9mm FMJ and .357 JSP bullet) according to NIJ-0106.01 test method
Armor type IIIA (9 mm FMJ bullet only), NIJ-0108.01 (modified)

PASGT style in large size and one size fits all.

4 points of plastic adjustable suspension system / chin strap and 7 pcs foam pad.

Branded product.

Sample purchase.




Order Information:
Minimum Order: Negotiable
Branded Product