Ballistic Vest - Guard Style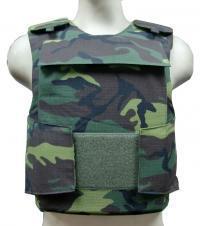 Guard Style
Product ID: FP 102A / FP 102D
2 armor panels design with front and back pouches for inserting hard armor panel for rifle bullet, Velcro attachment for groin protector.
Suitable for uniform police, military & security guard to upgrade ballistic performance.
Specifications:
Sizes (chest / waist): S. (34"), M. (43"), L. (50"), XL. (60").

Colors: White, light blue for covert, black or navy blue for overt or customer's request.

Option:

ID patch

Groin Protector

Armor Level III or IV Hard Armor Panel for rifle bullet.
Features:
Carrier material: Polycotton (outside) / Air mesh inside with double shoulder velcro and waist straps.

Trauma plate: 5" x 8" in thickness 1mm stainless steel covered by PVC in the inside back of garment.

Different sizes according to the template standard sizes of NIJ-STD-0101.06 as following choice

Performance level as following choice:

Ballistic armor level (ballistic only):

IIA or II or IIIA (NIJ).

HG1A or HG1 or HG2 (HOSDB).

Dual armor level (ballistic + stab / knife blade):

II + 1 or IIIA + 1 or IIIA + 2 (NIJ).

HG1 + KR1 or HG2 + KR1 or HG2 + KR2 (HOSDB).