Ballistic Helmet - PASGT Ballistic Helmet W/ Riot Visor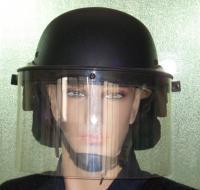 PASGT Ballistic Helmet w/ Riot Visor
Product ID: FP 202R
The style is composed of ballistic helmet with impact protection visor, and work compatibly with riot equipment.
Adjustable and replaceable heavy-duty aluminum bracket that is easy to pull the visor up and down.
Specifications:
Size:

Helmet: PASGT style, in large size and one size fits all.

Visor: polycarbonate plate (standard), size: 15 x 41cm. Thickness: 3mm

Colors: Black, green, desert or blue.

Options:

Carry bag,

thickness 4mm visor.
Features:
Performance level as following choice: Helmet only.

3 points of adjustable plastic suspension system with neck protection.

Visor mounting bracket with rubber strip to prevent from dangerous liquid.

Branded product.

Sample purchase.



Order Information:
Minimum Order: Negotiable
Branded Product